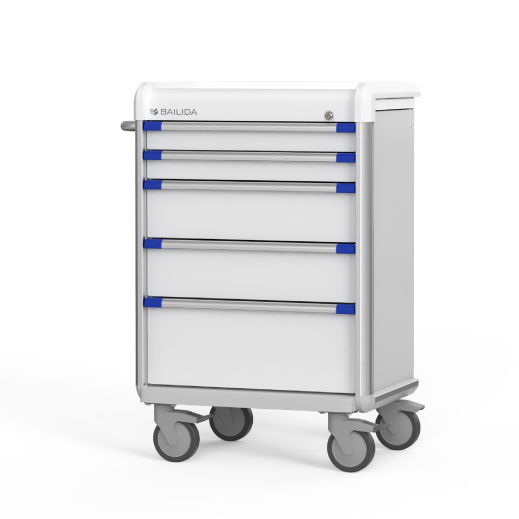 Anesthesia Cart
Anesthesia Trolley
Anesthesia carts are essential devices for hospitals to store anesthesia tools and controlled drugs securely. Thus, to assist hospital personnel to enhance efficiency, BAILIDA Anesthesia carts are designed with a combination of technology and multi-functions to cater to the specific needs of the anesthesia department.
---
BAILIDA's anesthesia cart is stable, smooth mobile with high maneuverability, offering large, effective storage and optional specialized accessories to well organize sedation, narcotics, and stupefacient with a reliable locking system. With device shelf and drawer vault design, our anesthesia cart ensures the healthcare worker to timely access the devices such as oxygen monitor and secure the controlled medication. Less time on daily anesthetics administration is spent, anesthesiologists are able to concentrate more on patients' needs.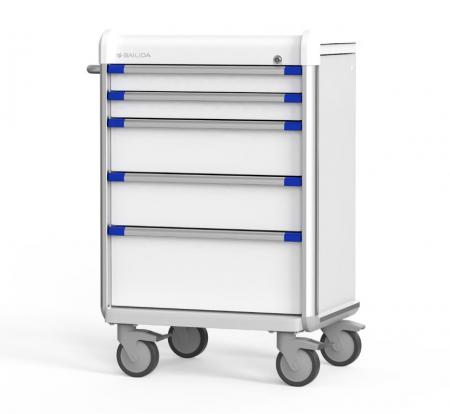 EX31ANE, EX34ANE, EX37ANE
BAILIDA EX Series Anesthesia Cart takes medication sorting and drug control into consideration....
Details
Add to List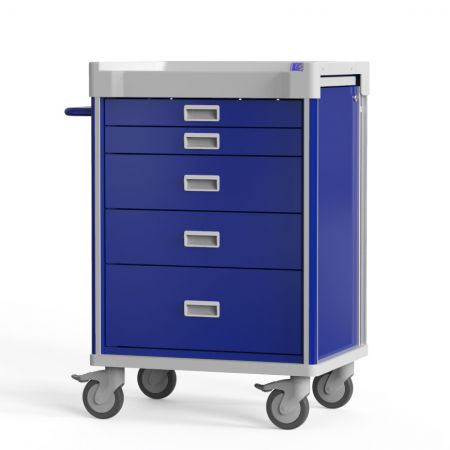 MX31ANE, MX34ANE, MX37ANE
BAILIDA Anesthesia Cart provides you with ability to secure control drugs and to sort medications...
Details
Add to List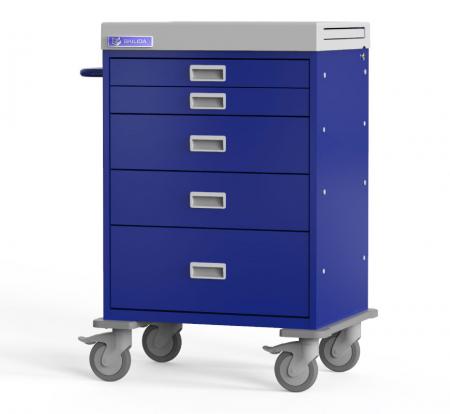 SC32ANE, SC35ANE, SCT34ANE, SCT37ANE
BAILIDA offers this basic and low-cost SC Series Anesthesia Cart that has full support for BALIDA...
Details
Add to List
Anesthesia Trolley | Medical Bedside Cabinets & Medical Overbed Tables Manufacturer | BAILIDA MEDICAL
Based in Taiwan since 2007, BAILIDA MEDICAL has been a medical carts and medical trolleys manufacturer. Their main medical equipment, include Anesthesia Cart, medical carts and medical trolleys, hospital room screens, hospital bedside cabinets, overbed tables and cabinet systems for medical supplies, which are ISO 90001 and ISO 13485 certified and has over 60 distributors located globally.
BAILIDA puts emphasis on space utilization and mobile units according to different practices and user scenarios in hospitals to develop multi-function medical carts. BAILIDA has set our goal to elevate quality of medical care and to become a prominent company for hospital equipment. BAILIDA has wide range of medical products include medical trolleys, hospital screens, overbed tables and equipment cart which provide solutions to healthcare professional in any medical environment. All our medical carts and tables are made of stainless steel for its durability and rigidity, and with our in-house laboratory, each equipment goes through strict stress tests.
BAILIDA has been offering customers high-quality medical carts and adjustable overbed tables, both with advanced technology and 13 years of experience, BAILIDA ensures each customer's demands are met.