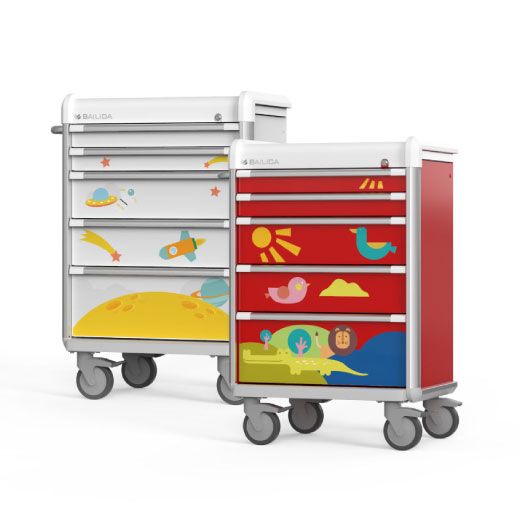 Pediatric Medical Cart
BAILIDA pediatric medical cart has color-coded drawers for emergency pediatric care. The drawer colors are based on the standard of Broselow Tape, also called the Broselow pediatric emergency tape. It is a standard used worldwide for a pediatric emergency.
---
The Broselow Tape relates the child's height which is measured by the tape to his or her weight for providing medical instructions including medication dosages, the size of the equipment that should be used. The color-coded drawers offer a quick identification for the professionals to get the right medical supplies promptly for the emergency need.
Pediatric Medical Cart - | iF Design Award Medical Carts and Pediatric Equipment Manufacturer | BAILIDA MEDICAL
Based in Taiwan since 2007, BAILIDA MEDICAL has been a hospital medical equipment manufacturer in medical furniture and parts industry. Their main products, include Pediatric Medical Cart, medical carts, medical screen, bedside equipment, storage systems and pediatric equipment, with over 60 distributors located globally.
BAILIDA puts emphasis on space utilization and mobile units according to different practices and user scenarios in hospitals to develop multi-function medical carts. BAILIDA has set our goal to elevate quality of medical care and to become a prominent company for hospital equipment. BAILIDA has wide range of medical products include medical trolleys, hospital screens, overbed tables and equipment cart which provide solutions to healthcare professional in any medical environment. All our medical carts are made of steel metal sheet for its durability and rigidity, and with our in-house laboratory, each equipment goes through strict stress tests.
BAILIDA has been offering customers high-quality medical carts and equipment, both with advanced technology and 13 years of experience, BAILIDA ensures each customer's demands are met.