Adjustable IV Pole with Wheels
IV Stand, Infusion Stand
BAILIDA IV stand ensures a continuous and uninterrupted supply of fluids and medicine to those who need it the most. It has a solid, sturdy base featuring casters to prevent it from tipping over. The height of the pole can be adjusted via a knob that can be easily released and tightened in order to provide vertical support by allowing mobility instead of staying confined to a bed or wheelchair. Whether with two or four hooks, half of the hooks are detachable, with plastic tips to enable customization and reduce puncture risk. The Iv pole with mounting bracket is capable of holding multiple accessories such as the wire bottle, the container, the oxygen tank holder and so on which improves the mobility and capacity of the storage. Our stainless steel infusion pump stands are strong, durable, and reliable, offering high quality stands to accommodate all your infusion needs.
Product Feature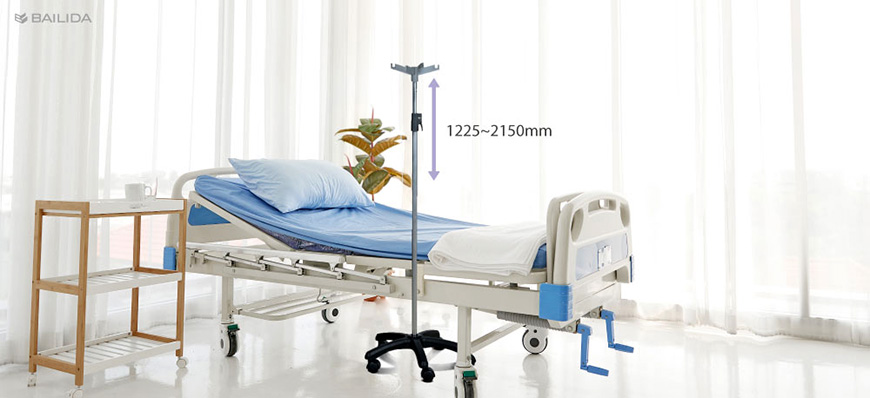 BAILIDA IV Pole offers you the ability to hang multiple IV bags at ease.
1. Height Adjustment: 1225mm ~ 2150mm
2. Numbers of Hooks: 4 hooks with two of them detachable
3. Casters: 2" plastic free casters x 5
4. Base: Diameter 480mm, PP & Fiber, Black
Specifications


Specifications of BAILIDA IV pole
Accessories
We have an abundance of accessory for you to add additional functionality to your IV Pole.
Download

---
Best Sale
Adjustable IV Pole with Wheels | Medical Equipment For Hospital | BAILIDA
Based in Taiwan, BAILIDA MEDICAL, since 2007, is a hospital medical equipment manufacturer in medical furniture and parts industry with over 60 distributors located globally. Main product including, medical carts, medical screen, bedside equipment, storage systems and pediatric equipment.
iF Design awarded and IDEA certified medical equipment supplied according to international standards. All our medical carts are made of steel metal sheet for its durability and rigidity, and with our in-house laboratory, each equipment goes through strict stress tests such as dynamic structure strength test, castor traveling test, stress test on drawer slides, tilt test, etc.
BAILIDA has been offering customers high-quality medical equipment, both with advanced technology and 13 years of experience, BAILIDA ensures each customer's demands are met.
---